Products

HP Stocks May Plunge by 50%
Money Manager de alto rendimiento, con una sólida formación académica, profesional y de campo. Más de 9 años de experiencia especializada en el comercio de mercados financieros internacionales. La devoción, la fiabilidad, la responsabilidad y la ética impulsan mi vida. Actualmente me desempeño como Analista Senior para Metadoro. https://metadoro.com/es https://mx.investing.com/members/contributors/235587671/ https://es.tradingview.com/chart/EURUSD/rE9gVips/
Rafael Quintana Martinez
Money Manager de alto rendimiento, con una sólida formación académica, profesional y de campo. Más de 9 años de experiencia especializada en el comercio de mercados financieros internacionales. La devoción, la fiabilidad, la responsabilidad y la ética impulsan mi vida. Actualmente me desempeño como Analista Senior para Metadoro. https://metadoro.com/es https://mx.investing.com/members/contributors/235587671/ https://es.tradingview.com/chart/EURUSD/rE9gVips/
21.09.2023
HP Stocks May Plunge by 50%
HP Inc stock prices may plunge by 50%. This downside scenario was highlighted by a diamond pattern that is finally formed on HP stock prices chart. This pattern started to form since March 2021. The first exit of the price form this patter was to the downside. Well, this doesn't guarantee prices would fall to $13.00 per share. But in case of a successful retest of the $29.00-30.00, which is the support of the pattern, a strong sell signal could emerge. I believe this is the level at $26.00 per share that would trigger this signal. If this signal would emerge a short trade targeting $13.00 would be very interesting. The stop-loss in this case could be put at $35.00.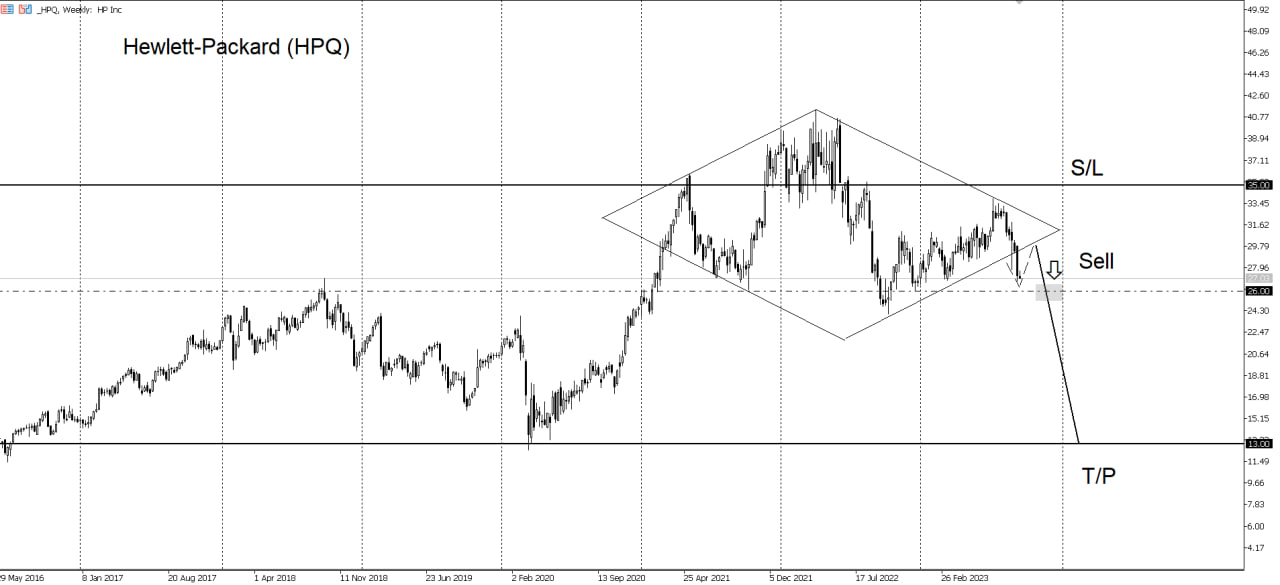 Disclaimer:
The comments, insights, and reviews posted in this section are solely the opinions and perspectives of authors and do not represent the views or endorsements of RHC Investments or its administrators, except if explicitly indicated. RHC Investments provides a platform for users to share their thoughts on financial market news, investing strategies, and related topics. However, we do not guarantee the accuracy, completeness, or reliability of any user-generated content.
Investment Risks and Advice:
Please be aware that all investment decisions involve risks, and the information shared on metadoro.com should not be considered as financial advice. Always conduct thorough research, seek professional advice, and exercise caution when making investment decisions.
Moderation and Monitoring:
While we strive to maintain a respectful and informative environment, we cannot endorse or verify the accuracy of all user-generated content. We reserve the right to moderate, edit, or remove any comments or posts that violate our community guidelines, infringe on intellectual property rights, or contain harmful content.
Content Ownership:
By submitting content to metadoro.com, users grant RHC Investments a non-exclusive, royalty-free license to use, display, and distribute the content. Users are responsible for ensuring they have the necessary rights to share the content they post.
Community Guidelines:
To maintain a positive and respectful community, users are expected to adhere to the community guidelines of Metadoro. Any content that is misleading, offensive, or violates applicable laws and regulations will be subject to moderation or removal.
Changes to Disclaimer:
We reserve the right to update, modify, or amend this disclaimer at any time. Users are encouraged to review this disclaimer periodically to stay informed about any changes.