Products

A Dip Buying Choice on Google
25.10.2023
A Dip Buying Choice on Google
Google shares dropped by more than 5% after the closing bell on October 24 and then brought the score to -8.75% in early trading hours the next day. The market crowd did it on a very solid financial report, and that's a totally irrelevant story for me. I believe this is only a golden opportunity to buy Google-parent Alphabet on temporary dips. The "official" background for this strange price move in many news sources was a lack in revenue growth from the cloud computing segment of Google's business. As a matter of fact, the giant's cloud sales added 22% on an annual basis to $8.4 billion "only", compared to consensus expectations for $8.6 billion on Reuters polls. It's not a tragedy, is it? The difference could be noticeable only if compared to Microsoft Azure cloud, which reportedly soared by 29% for the same period. Well, Microsoft's performance on clouding is now better than the same business by Google, yet Google has a large diversity in terms of other sources of income.
All in all, Google announced its quarterly EPS of $1.55 on total revenue of $76.7 billion, with both measures beating consensus for EPS of $1.46 on revenue of $75.9 billion. Google's components of revenue from its search and other businesses rose 11% to $44 billion, and YouTube advertising revenue rose 12% to $7.9 billion, for example. All these numbers were absolutely the best ever for the company in terms of sales, and the highest in terms of profit since Google's stock split in 2022. As Google-parent Alphabet's CEO Sundar Pichai said, he was also "pleased with our financial results and our product momentum this quarter, with AI-driven innovations across Search, YouTube, Cloud, our Pixel devices and more", so that his company continues to focus on "making AI more helpful for everyone", which is an "exciting progress" and "lots more to come".
I have no reason to doubt as well. And the current price discount is exceeding 16% vs all-time highs of summer 2022 for Google. So, nothing is wrong with a trading plan of buying dips, keeping in mind the first price target of above $140 at least.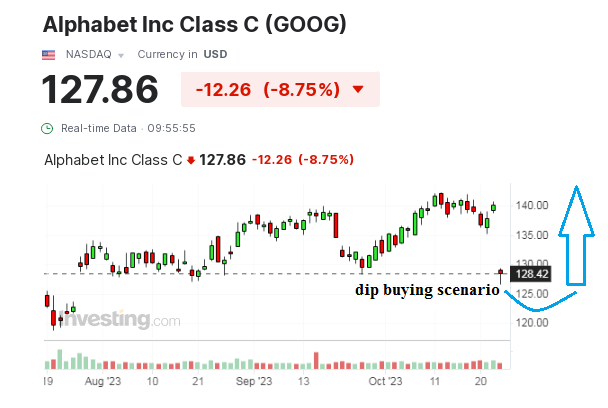 Disclaimer:
The comments, insights, and reviews posted in this section are solely the opinions and perspectives of authors and do not represent the views or endorsements of RHC Investments or its administrators, except if explicitly indicated. RHC Investments provides a platform for users to share their thoughts on financial market news, investing strategies, and related topics. However, we do not guarantee the accuracy, completeness, or reliability of any user-generated content.
Investment Risks and Advice:
Please be aware that all investment decisions involve risks, and the information shared on metadoro.com should not be considered as financial advice. Always conduct thorough research, seek professional advice, and exercise caution when making investment decisions.
Moderation and Monitoring:
While we strive to maintain a respectful and informative environment, we cannot endorse or verify the accuracy of all user-generated content. We reserve the right to moderate, edit, or remove any comments or posts that violate our community guidelines, infringe on intellectual property rights, or contain harmful content.
Content Ownership:
By submitting content to metadoro.com, users grant RHC Investments a non-exclusive, royalty-free license to use, display, and distribute the content. Users are responsible for ensuring they have the necessary rights to share the content they post.
Community Guidelines:
To maintain a positive and respectful community, users are expected to adhere to the community guidelines of Metadoro. Any content that is misleading, offensive, or violates applicable laws and regulations will be subject to moderation or removal.
Changes to Disclaimer:
We reserve the right to update, modify, or amend this disclaimer at any time. Users are encouraged to review this disclaimer periodically to stay informed about any changes.