UK Brent Crude Oil
Por fecha
Comenzando con Metadoro
Hoy a las
Yesterday at
Two days ago
27.04.2023
Durante todo abril, en el mercado del petróleo sonó una marcha victoriosa de la OPEP +, gracias a la decisión inesperada de reducir la producción en 1.6 millones de bpd, tomada a fines de marzo. Pero me parece que la música de la orquesta del cartel petrolero ampliado suena cada vez más bajito, y la marcha fúnebre de la recesión inminente, por el contrario, está más fuerte. Los precios del petróleo en abril no pudieron romper la resistencia de $86.00 - 88.00 por barril de Brent y hoy en día están pagando por la debilidad mostrada cayendo al nivel de soporte de $77.00 - 79.00 por barril. Los vendedores tienen una ventaja significativa, y los temores recesivos continúan aumentando. Por lo tanto, el mercado del petróleo se vuelve lo suficientemente interesante para un pequeño partido especulativo con grandes objetivos.
Si el soporte de $77.00 - 79.00 por barril de Brent no resistirá la presión, entonces el próximo objetivo a la baja será un hito en $67.00 - 69.00 por barril, donde no se puede descartar una aceleración recesiva de la caída por debajo de $60.00 por barril. Es una oportunidad muy tentadora que intentaré aprovechar en el caso de una nueva prueba de un soporte roto de $77.00 por barril.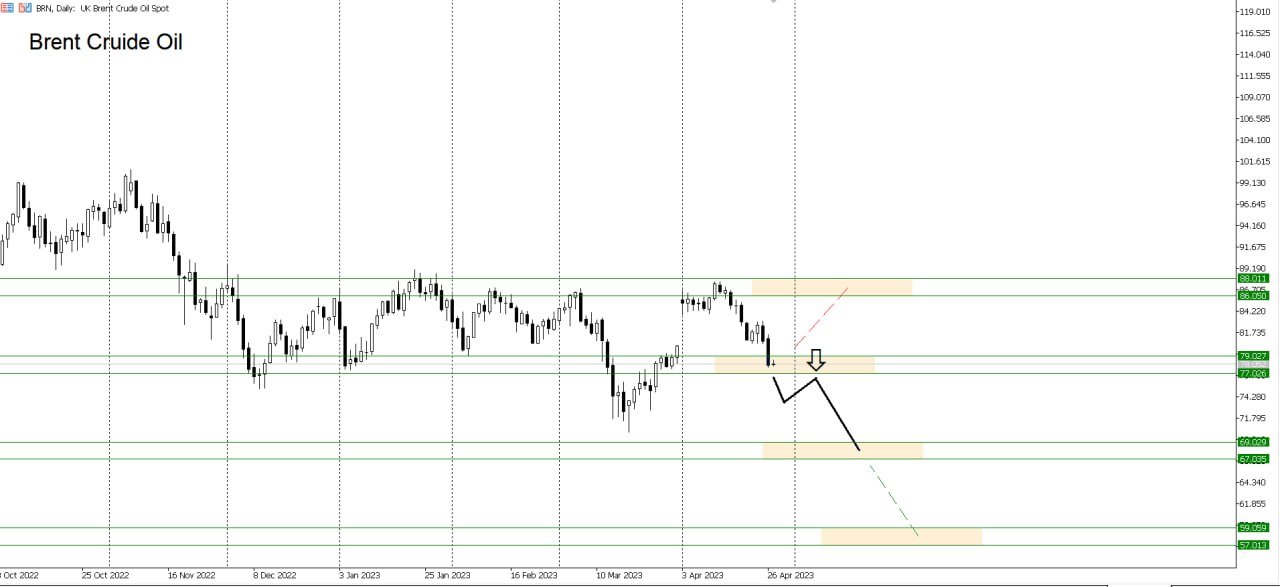 UK Brent Crude Oil
Benchmark oil crudes are the most popular commodities to trade if a trader is seeking to trade oil. The Brent crude (BRN), that was pumped from the North Sea, is most commonly used benchmark blend in Europe. Although it is no longer produced from the Brent oilfield as it has been depleted, the price of crude oil and other blends are still dependent on the Brent crude benchmark.
BRN is traded on the Intercontinental Exchange (ICE). Crude is a standartised exchange asset and is primarily traded on the commodity exchange. This commodity has very distinctive features:
- Prices of crude are largely affected by the demand that is driven by the economic situation on a global scale. A booming economy usually means more fuel consumption that pushes up crude prices. A slowdown of the economy, or a recession, usually means a decline of crude prices. The demand and supply of oil, along with forecasts, are regularly released by prominent international organisations, like the Organisation of Petroleum Exporting Countries (OPEC), the International Energy Agency (IEA), and the U.S. Energy Information Administration (EIA);
- Prices are especially vulnerable to economic situations in the United States and China, which are the major consumers of oil. Thus, GDP, retail sales, industrial output, business activity indicators, unemployment, inflation, etc. in these countries affect crude prices and should be monitored carefully;
- Monetary policies of the U.S. Federal Reserve (Fed) and other major central banks also affect crude prices. Dovish monetary policies, especially by the Fed, foster economic expansion, increase the demand for oil and support prices. Higher interest rates suppress economic activity and limit the demand for oil;
- Crude oil is a risky asset. Thus, positive sentiment in the market, a rising appetite for risk, and rising stock indexes support crude prices. The CBOE Volatility Index (VIX) could serve as an indication of risk tolerance. The higher the index, the more pressure crude prices are facing. Alternatively, a lower index supports crude prices;
- The U.S. Dollar exchange rate directly affects crude prices as commodity prices are measured in Dollars. Moreover, the U.S. Dollar is a safe haven asset and its strengthening is also associated with rising risks, meaning that crude prices are under pressure as a risky asset. The U.S. Dollar Index (DXY) may serve as an indication of this criteria;
- From the supply side crude output level, changes of crude oil inventories and supply disruptions affect prices. For example, crude oil inventories in the United States, the data that is usually released every Wednesday by the EIA, may have an immediate short-term effect on prices, while agreements in crude production quotas of OPEC have more long-term effects on prices;
- Geopolitical tensions heavily affect crude prices. However, rising political tensions may push crude prices up. Which is quite different compared to other commodities. Rising political tension on oil-producing countries may have a strong impact on prices. Military tension in the Persian Gulf area, where vast oil production is located, may disrupt oil production and its transportation, which will result in rising crude prices;
- Oil price changes affect stock prices of oil production companies, gas prices as an alternative fuel, and other fuels. Lower or higher crude prices affect commodity-driven currencies like the Canadian Dollar (CAD), the Norwegian Krone (NOK), the Mexican Peso (MXN) and the currencies of other oil-producer nations.
Horario de operaciones
(UTC)
Abrir ahora
Cerrado
Cierre el

Apertura el

a las
El horario de apertura del mercado se indica según su zona horaria local (UTC)
| | |
| --- | --- |
| Ticker | BRN |
| Valor de contrato | 1000 |
| Apalancamiento máximo | 1:100 |
Historial de swaps
| Fecha | Short Swap (%) | Long Swap (%) |
| --- | --- | --- |
Volumen mínimo de una transacción

0.01

lotes
Volumen máximo de una transacción

100

lotes
Margen de cobertura

50

%
Requisitos de margen
| USD Exposure | Apalancamiento Máximo Aplicado | Margen Flotante |
| --- | --- | --- |
¿Listo para operar con petróleo?
Invite a sus amigos a experimentar Metadoro, operen juntos y compartan su pasión por invertir. Lea más sobre el programa de afiliados en su Área Personal.